Dear All,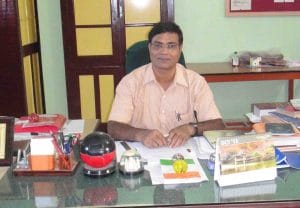 New academic year 2016-17 has began with hectic activities. Our Senior Secondary and class X students have completed their Board exams in March. Some of the students of 10th may continue and complete class XII at CHS, Ara while some nostalgically may bid adieu to pursue their studies elsewhere. But in spirit we would remain ever united. The outgoing students would appreciate the wholesome education they received at Catholic High School, Ara.
Experience shows that education is a constant and creative development. It aims to develop, expand and nurture the capabilities elemental in human nature for personal as well societal enrichment. It is important to equip young learners with scholastic, co-scholastic, physical, emotional, social, spiritual and moral values for their holistic development.
In recent years, CHS has grown abundantly in its size, stature and prominence. It is our solemn duty and responsibility to ensure that a purposeful education and training of a high standard is imparted to our students, to equip them to compete for various careers and courses of choice in the years to come and that cohesive administrative facilities within available resources are made available to all for shaping up the institution towards attainment of our cherished goals.
I ensure, to the best of my ability to give my selfless service towards the noble cause of building up the institution for all round growth and development of our students. To bring the school to distinction, calls for wholehearted dedication on the part of teachers, parents, students and the alumni.
Dear Teachers, let us be aware that we all are passing through a phase of the biggest value crisis, we ever faced. The youth of today is in a very delicate situation. It is our moral responsibility to help our students to recognize the right values. Every child has a spiritual heart, where the divine is present. So every learner is a temple of God. When we deal with students with this awareness we ourselves will begin to feel the vibrations of the divine energy within us and in the entire school campus.
Dear Parents, your kind co-operation and assistance in all matters will ever remain as a complement to our endeavors in the school. With trust and assistance of the God, I take every possible step to mould and chisel your child as a virtuous, neighbour and God loving person who can become  intellectually and emotionally grown and mature, morally sound, and spiritually rich. Today the society looks forward not only to intellectuals but also to individuals endowed with rich social and moral qualities. Let your child be one of them who will not only be a doctor, an engineer or a teacher but also a loving, kind, mature, and a just human being; fully active and alive in the society.
Dear Students, always remember that the student-life is the most beautiful part of your life.  Good students have a good time management. They give priority to their learning. They also give sufficient importance to games and other co-curricular activities. They enjoy their student-life without stress and strain. They are open to all realities of life with an optimistic attitude and with a sense of right and wrong. They deal with the praise and blame with balanced emotion. They develop a good self-esteem, and do not easily become victim to disappointments. There will be moments in your life where you will be exposed to a wider world. Your personal achievements and things you learned will be put to test. Be of good cheer. Be firm. Be a person of character. It is your moral fiber that would hold you fast to the values and principles that have become an inevitable part of your personality. Adhere to truth, love, justice and duty. Truth alone shall prevail – "Satya Meva Jayate". In the final count, your character, your emotional and spiritual intelligence would bring fulfillment in your life.
So let's strive to achieve greater heights.
Let Catholic High School, Ara tread on its path and continue to inspire thousands to enter the hallowed portals of education and to look beyond the borders of horizon.
May God bless you all!
Fr. Josey Mathias, SJ
Principal, Catholic High School